Penned Up 2 – HMP Erlestoke's Second Literary Festival
---
29/05/2018
Following the huge success of the inaugural literary festival at HMP Erlestoke in 2017, planning began almost instantly to provide an even bigger and better version the following year. So it was after months of preparation from our prisoner co-ordination council, support from the prison team and the Arts Council and lots of hard work from the Weston staff, our Reading Patron David Kendall was able to introduce Kit De Waal to the stage on the 12th March to open the festival.
Kit appeared in 2017 and was an inspiration to the audience and so was back to do the opening address and workshops. Kit talked about her book, giving a voice to the working classes and the importance of the prisoners finding their own voice and expressing it. She was followed by performances from our prison band "Discarded" amid a really upbeat and positive atmosphere.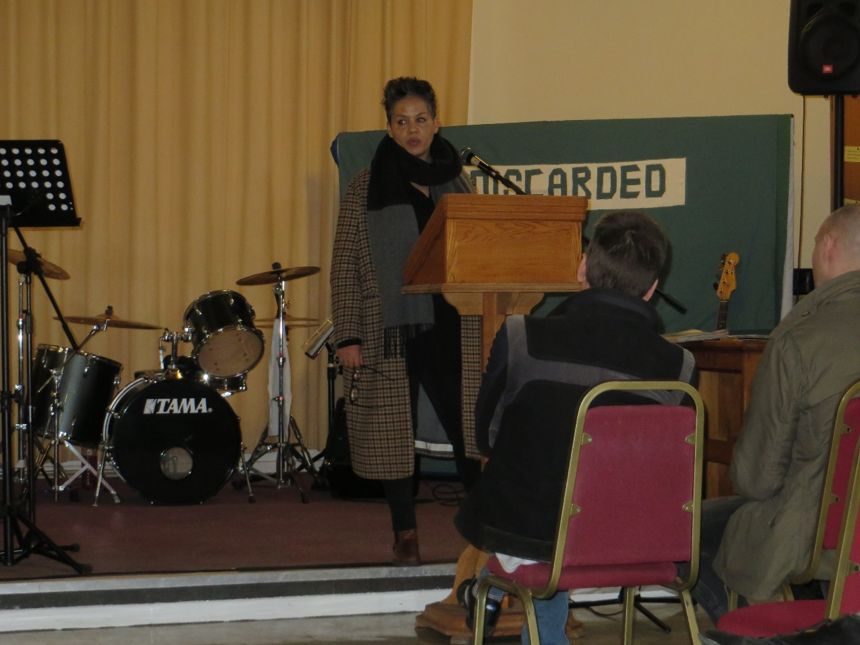 So we were underway once again! A line up that we hoped would inspire, uplift and invigorate the creative juices was ready to go! Events were scheduled every day, internal and external partners and performances with competitions and prizes on offer throughout the week. Prisoners had helped with the planning from the start, including writing to the authors and guests and promoting the events so strong attendance was guaranteed.
Big headline acts include Dragon's Den success story Levi Roots and ex- England and Arsenal footballer and captain Tony Adams and, stretching the festival out a bit beyond its two weeks, Terry Waite, who would be attending in May due to unavailability over March.
Venues for workshops and talks were spread all over the prison – chapel, gym, classrooms – to allow maximum participation and mentors and staff worked hard all fortnight to make sure everyone got to where they needed to be.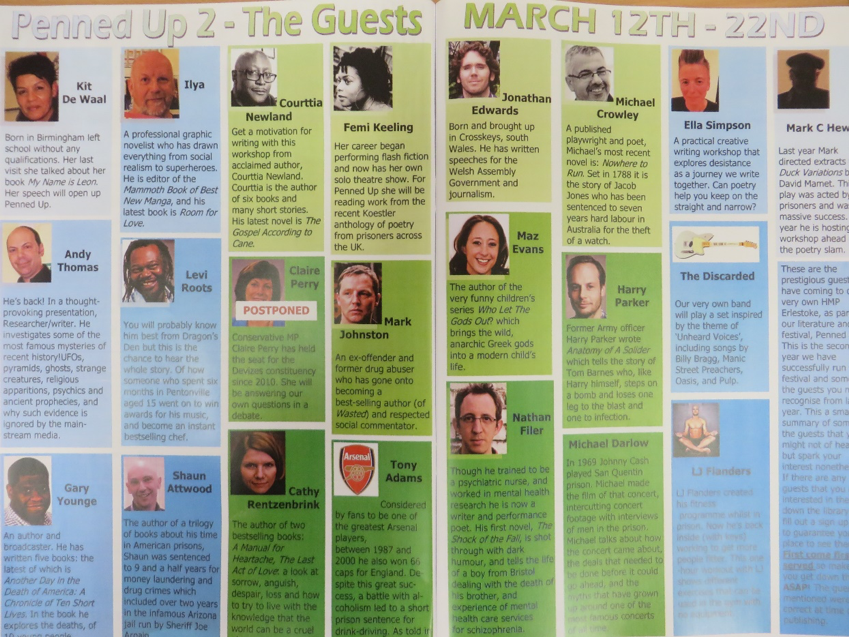 Returning by popular demand were guests Ella Simpson of Bath Spa University and Ilya – providing creative writing and art workshops respectively.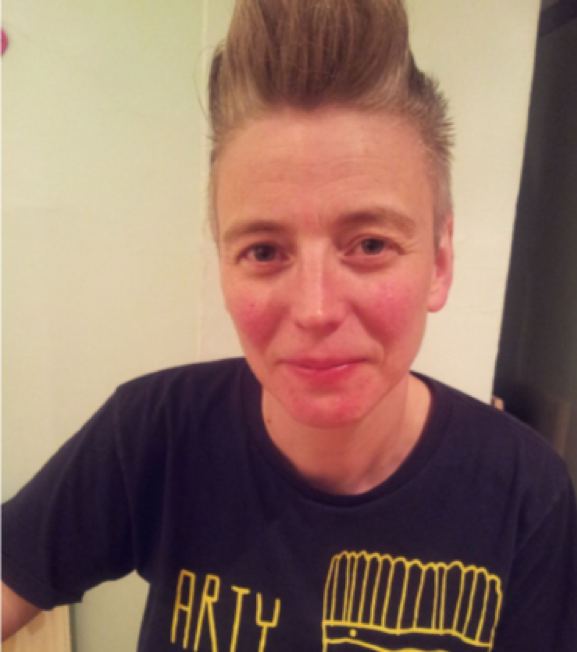 The feedback had been overwhelmingly positive last year and Ella had the same impact this time around: "Well it encompassed so much: thoughts, emotions, feelings, passion, humanity, psychology, depression, anxiety, love, angst, violence, communication, expression, hopes, dreams and more – all openly discussed and shared round.
It felt like we'd all melded together and benefitted from a compassionate counselling session with someone who actually understood. Brilliant!"
Ilya followed suit with his comic book arts session in the Ceramics workshop: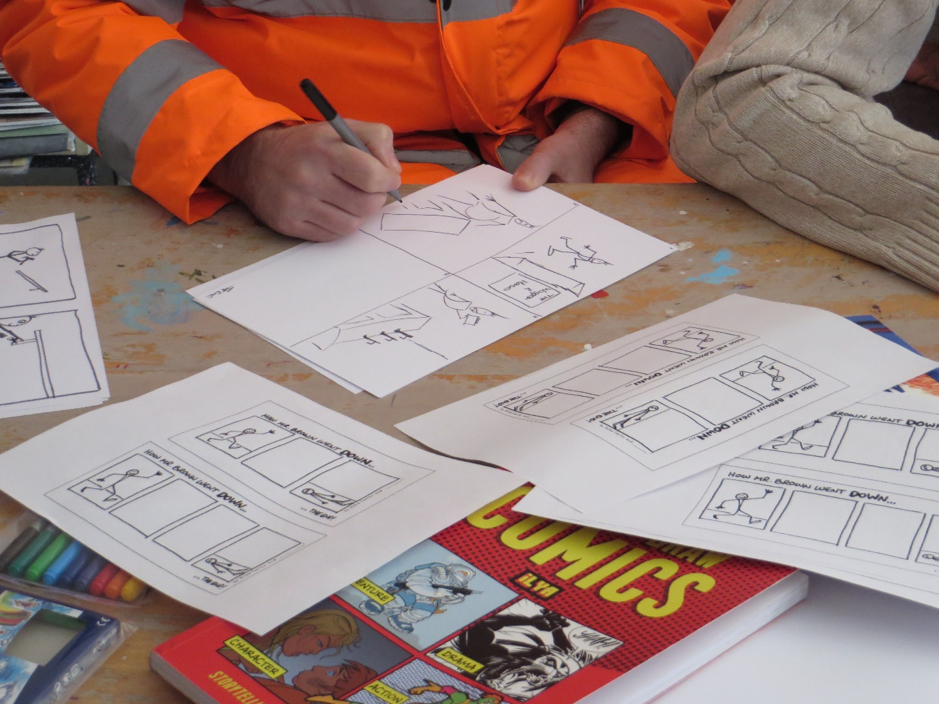 "Both of the art workshop sessions were excellent. Ilya was so supportive and encouraging, it made me more creative".
"I was so disappointed when I couldn't do the full sessions last year so I was delighted that Ilya was good enough to come back!"
"I thought that this was one of the most inclusive and personal sessions of the whole festival! I attended both of Ilya's classes and the time flew by too quickly!"
Prisoners were given a chance to sign up to as many events as they wanted and all received a good turn out. Headline acts in week one – Levi Root s and Tony Adams – filled the chapel and were very positively received.
Tony talked about his book "Addiction" and his experiences of prison, addictions and of course as a world class footballer.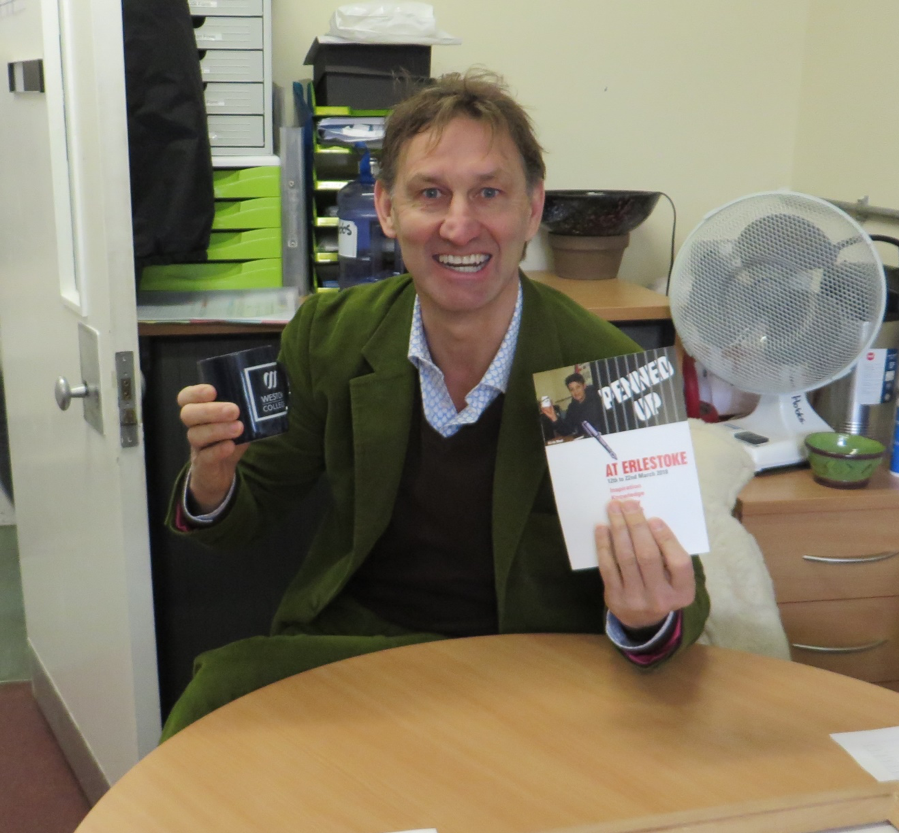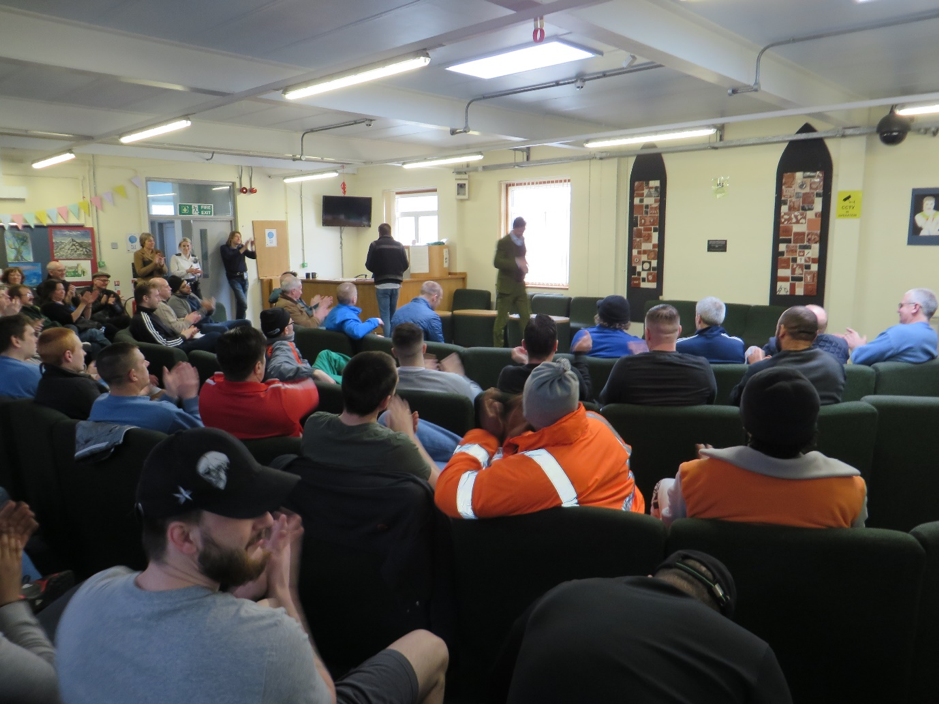 Levi brought his usual charisma to his performance, talking about his experiences as an entrepreneur and prior to that in trouble as a youngster. Both headline guests engaged the audience and found their connection.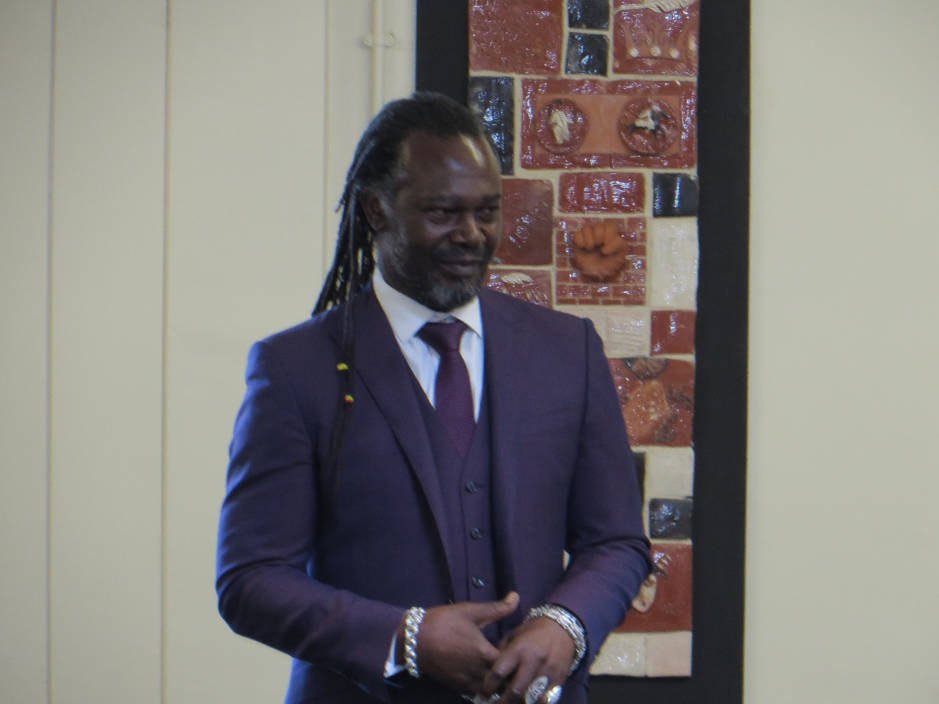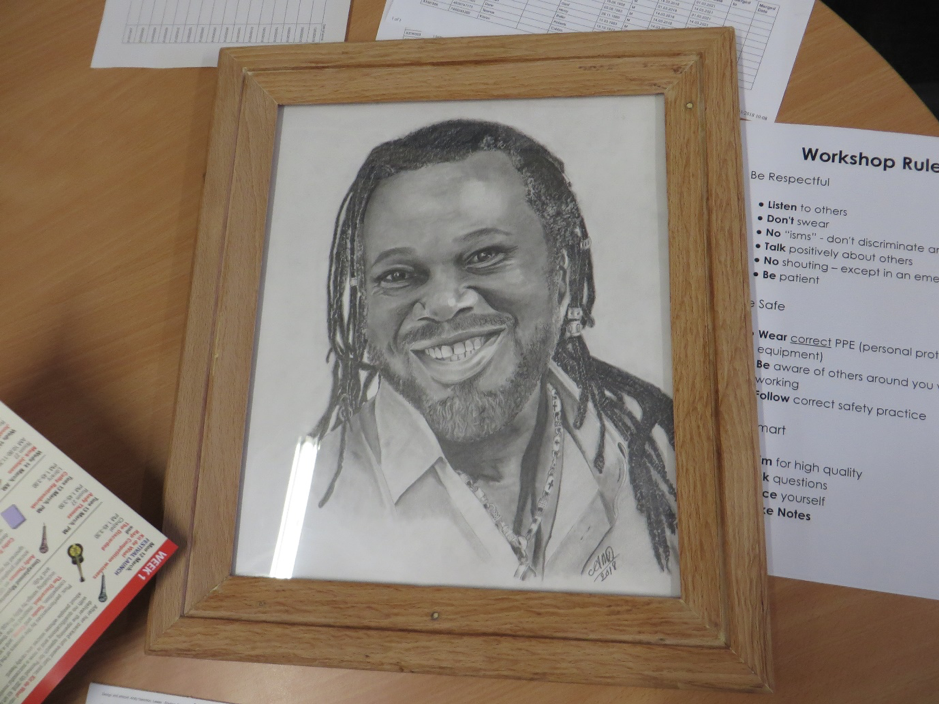 Every day passed without incident and in a haze of positivity, prisoners being openly inspired and enthralled by the visitors.
Creating a particular buzz at the beginning of week two was Michael Darlow. Despite an illustrious and varied career in the entertainment industry Michael is almost exclusively asked about his involvement in the 1969 Granada documentary featuring Johnny Cash playing live at San Quentin prison, California.
A great speaker who is relaxed in the environment and able to interact naturally with all the audience, Michael gave a hugely popular and engaging session on his documentary and experiences.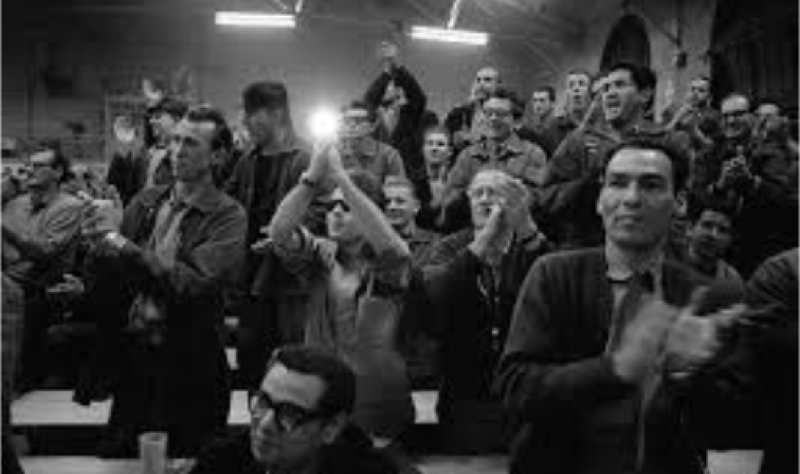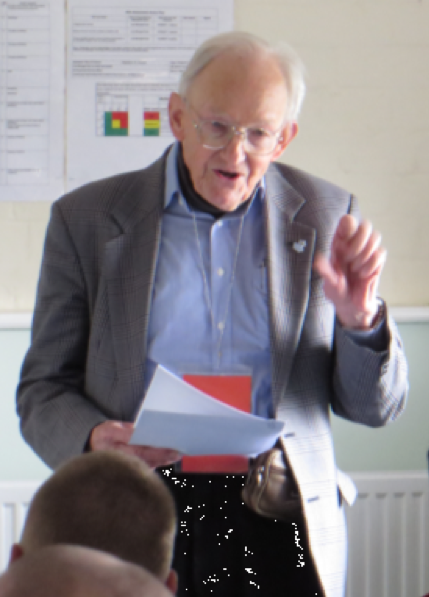 Showing us the documentary, Michael explained he had wanted to produce an interview with Cash and after a positive initial contact with Cash's management team, the idea was developed and grew until it was suggested that they film a documentary around a concert in San Quentin.
San Quentin prison is located on the Northern side of San Francisco Bay. At the time of the concert it held 3,000 of the worst offenders in the US. Michael told us, "At that time, anybody arriving at San Quentin already had a bit of a reputation. There were 70 men on death row… and an average of 6-8 murders within the prison every year."
The documentary included interviews with prisoners that our learners at Erlestoke thought reflected their views today.
"They're [society] hiding us you know. That society out there created a good many of us. I myself feel that the greatest crime a goodly proportion of us in San Quentin are guilty of is one thing – that we were born poor."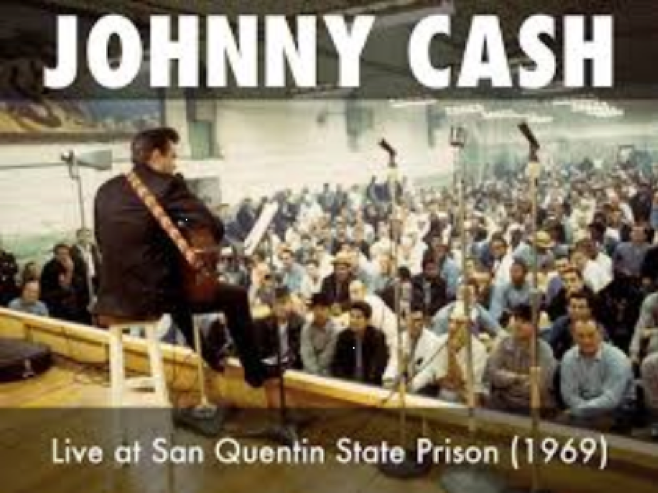 In week two, visiting for the first time was Michael Crowley who has written about experiences of prisoners being shipped to Australia and Nathan Filer, author of "The Shock of the Fall" who held a workshop talking about his inspirations behind the book and experiences of mental health:
"I really enjoyed the workshop. I found that Michael's book was really easy to read and very interesting."
Michael Crowley talks to prisoners about the inspiration behind his book.
Nathan Filer in conversation with David Kendall about the perceptions of mental health: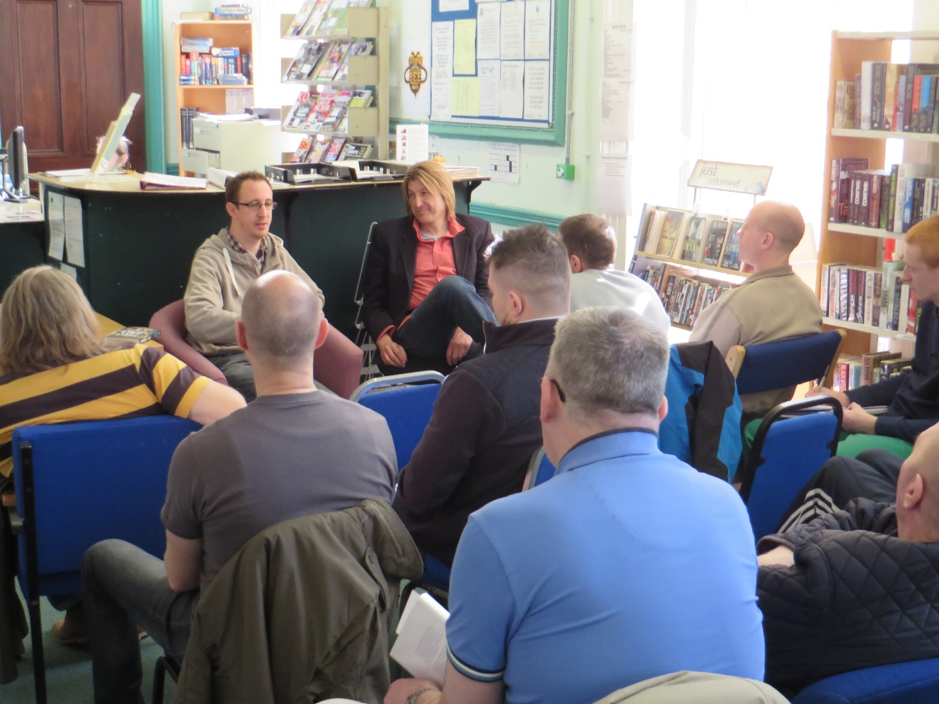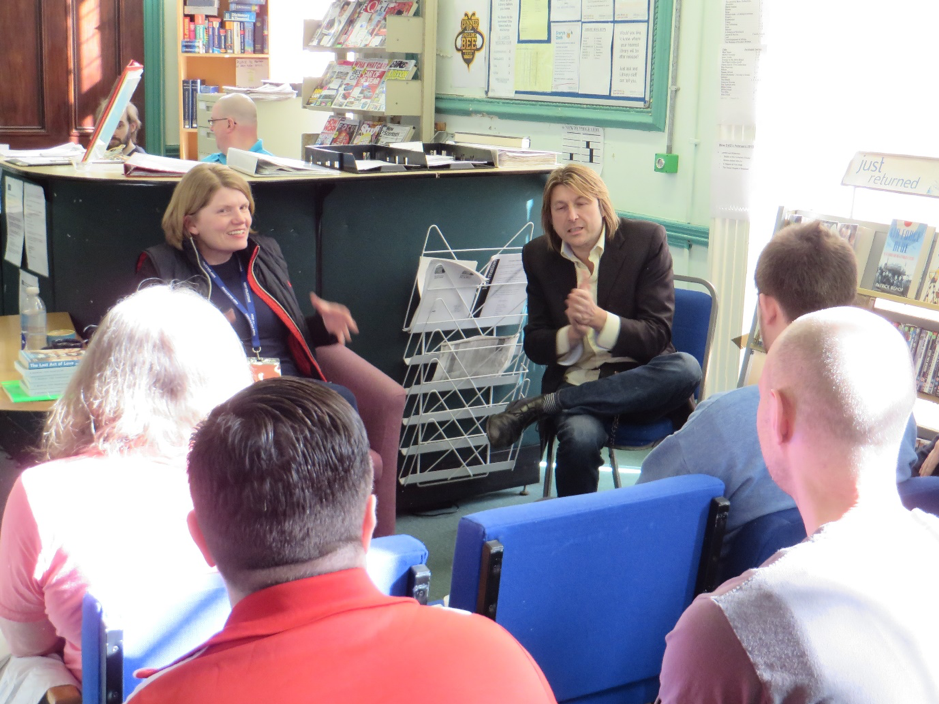 Many more speakers came and celebrated their experiences with us and we were truly blessed to have such great inspiration and engagement from so many authors and artists. All events were well attended and prisoners left with new ideas and passions. Follow up activities will take place with attendees to gauge the ongoing impact of the events in coming months and further opportunities are regularly offered at HMP Erlestoke for reading and creative writing groups so continued progress can be made.
Cathy Retzenbrink in conversation with David Kendall and participants in the Erlestoke library.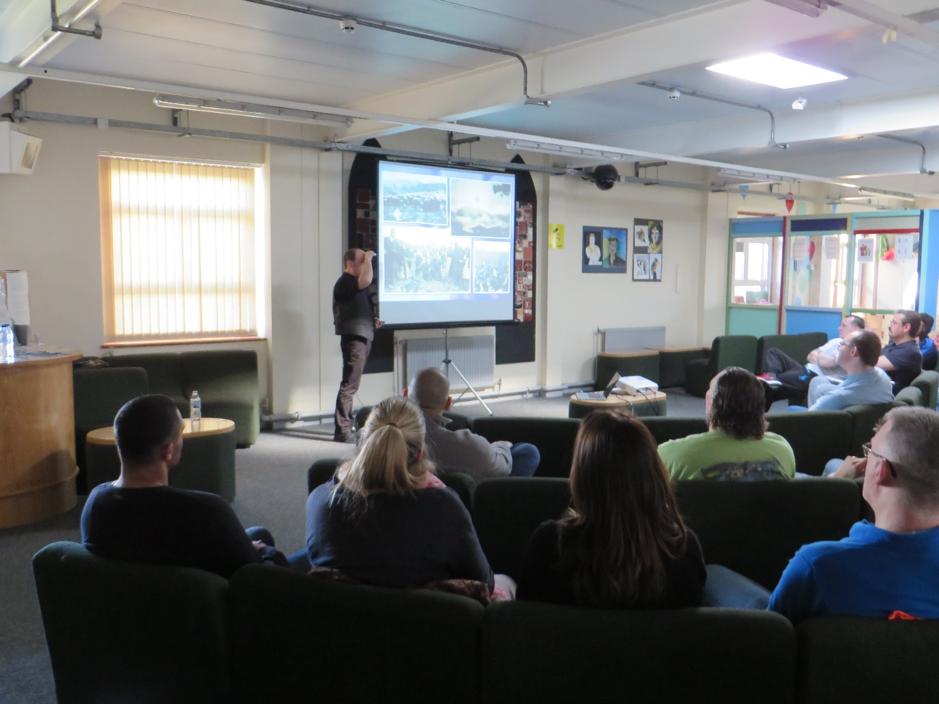 LJ Flanders introduced his in cell workout – we're not sure David was keen to demonstrate all the exercises though!
Andy Thomas returned with his fascinating and compelling unexplained mysteries talk.
The final act of this year's festival was delayed a little due to prior commitments but Terry Waite was so keen to come and talk with prisoners that we were happy to accommodate him! Terry's event was a full house again and, despite the continued interruptions of fire alarms around the department, Terry entranced the audience with his experiences.
As a humanitarian negotiator Terry had spent 1763 days in captivity, the majority of which were in solitary confinement. Terry's story is an inspiration to anyone and he had the audience's rapt attention as he explained his experiences and read form his own writing about them.  His strength of mind to stand by what he believes in and continuing to have integrity spoke to all of us and was a poignant and memorable end to this year's "Penned Up 2".
Huge thanks must go to all the guests who came and made it such a special fortnight at HMP Erlestoke and to all the staff and prisoners who helped to organise and promote the events as well as the Arts Council who supported funding and the co-ordination team led by David Kendall. We are all looking forward to how 2019 can top this!