Lest We Forget – Prisoner Artwork Draws a Crowd
---
21/11/2018
Artwork, short stories and poetry from prisons around the South West of England have been exhibited at Leyhill Grounds coffee shop for the last two weeks.
All the pieces exhibited were entries to Weston College's regional competitions, organised to "Say Thank You" in recognition of the 100 year anniversary of the World War One armistice.
Each prison in the region held local competitions in the three categories and local winners were then displayed for the public to view over the first two weeks of November before judging concluded the exhibition and decided the regional winners in each category.
The standard of entries were high, inspiring and often moving. From artwork made of soap at HMP Eastwood Park to an impressive cake made by catering students at HMP Leyhill, creativity was on show. Many of the pieces, too large to be moved and displayed, are still standing in the various prison grounds to celebrate the efforts of the learners.
Winning pieces originated from HMP Erlestoke and HMP The Verne but all pieces were admired by those that attended the exhibition over the weeks.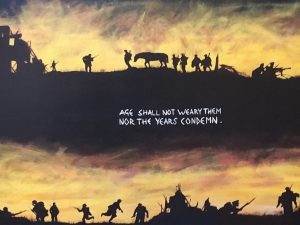 Leyhill Grounds is based within the grounds of HMP Leyhill and open to the public. Run jointly by HMP Leyhill and the Releasing New Potential CIC it is staffed by prisoners who are released on temporary license, the coffee shop is open Monday to Friday 8:30-3:30 and the aim is to provide learners in custody with work experience, developing employability skills and additional qualifications to support them on release. For more information or to reserve a table call 01454 264218 and speak to the coffee shop manager Kaye Thomas.