Our Ofsted Outstanding College is
a leading provider of prison education in England.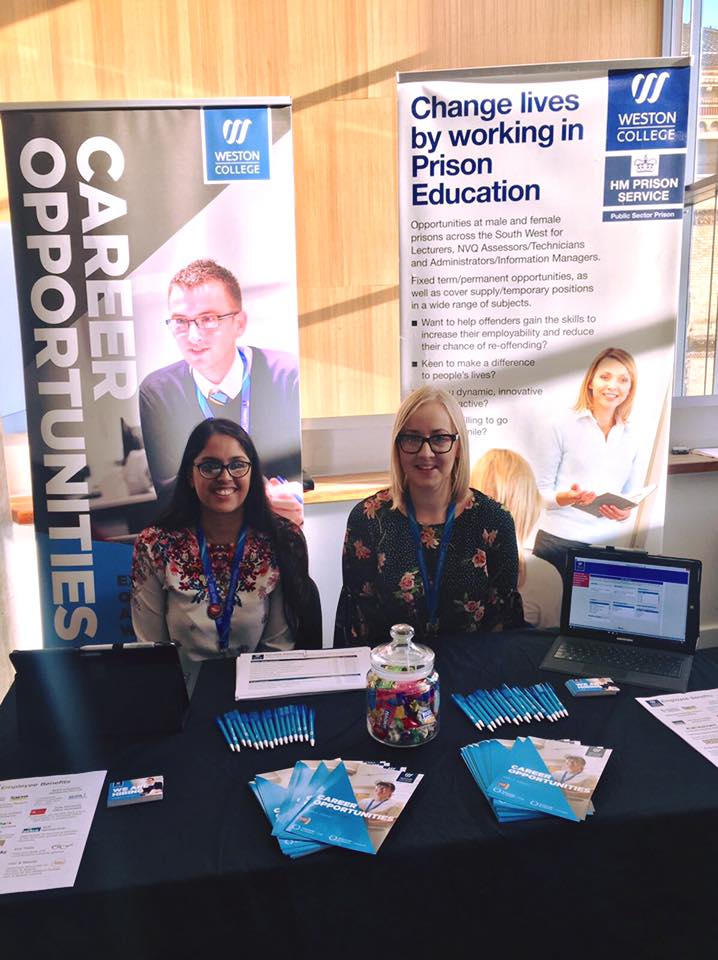 Are you motivated to make a difference?
Do you want the chance to positively change peoples' lives?
Then working in prison education with Weston College could be for you...
Since being awarded the prestigious Prison Education Framework (PEF) in 2019, Weston College delivers education provision in 19 prison locations in the South of England. And they are looking for outstanding people to join their team.
Are you currently serving in the Military or are ex-service personnel and considering what the next Chapter in your Career Journey will be?
Did you know there are opportunities to work within a prison setting even if you are not a qualified teacher? If you have drive, passion, desire to make a difference, and the relevant sector occupational competence, qualifications, and or transferable skills in the subject you want to teach; then it may be YOU we are looking for.
There are a high number of ex-military personnel now working for Weston College within the prisons delivering and managing the education contracts, they are in various roles from; Support Staff, Teachers, Curriculum Managers, Area Managers, and at Director level.
Weston College manages the education provision in 19 prisons in Avon, Bristol, Devon, Dorset, Gloucestershire, Somerset, Kent, Surrey and Sussex.
If you are interested to find out more about applying for a role within a prison setting please select the link to our interactive package which will support you through the process.
Good luck!
CLICK HERE FOR OUR INTERACTIVE PACKAGE
Naomi, Advanced Practitioner at HMP Channings Wood says "Being an Advanced Practitioner is one of the many ways to progress in Offender Learning and for me it is all about helping the tutors which in turn makes a better learning environment for the learners.
Our tutors work extremely hard to give learners, who may of missed out on education, the best chance they can within prison.
My job is to assist in the process and the most rewarding thing for me is seeing learners succeeds."
Emily, MISCo for Weston College since April 2017 says " This is a really varied role where no two days are ever the same.
My main responsibilities are processing learner enrolments and tracking attendance to courses in order to populate a report each month. As a people person, the thing I love most about my job role is the diverse range of people that I work with; both colleagues and offenders.
There is always the opportunity to learn something new and I am always being challenged to improve my skills or take on something different."
James, tutor at HMP Portland has made great progress since starting with Weston College "Working for Weston has enabled me to establish a career in teaching, whilst achieving formal teaching qualifications in post.
Last year I also progressed on to representing the quality team as Advanced Practitioner where I support my colleagues to develop and maintain high standards of delivery to enable learners to achieve to the best of their ability and strive to support the provision in the pursuit of outstanding.
Now I'm moving on to a new challenge - becoming the Assistant Curriculum Manager!"
Becky who has worked at HMP Bristol in different roles says, "Working with the hard to reach prisoners in my previous role allowed me to see the benefits of accessing those disengaged prisoners.
This is reflected in my Outreach work, which allows me to engage learners on a one to one basis and to get the absolute best out of them.
This Outreach work has further encouraged those prisoners to make the next step, by joining classroom based learning."
Mark, a Vocational tutor at HMP Leyhill loves working in offender learning "I have been teaching site carpentry for 3 years at HMP Leyhill. Some of the prisoners have had negative experiences with education throughout their lives and having an opportunity to engage with them in an educational environment is both challenging and rewarding.
To see someone building their confidence and developing a skill that could help them gain employment on release and ultimately prevent them from reoffending, is an experience I enjoy.
I try to promote a safe and inclusive environment for students to learn how to use a range of power tools and hand tools safely and also to learn how to carry out 1st fix & 2nd fix activities that will either save them money or enable them to earn money."

Are you available for temporary cover work? Are you searching for flexible work and a new challenge? Then contact Forward Futures to explore some of the current opportunities for flexible work within our prison education departments.
Click here to view current vacancies
For information about working with Forward Futures please call 01934 411 661.